The World Wide Fund for Nature (WWF) Vietnam, in co-operation with Dak Lak Elephant Conservation Centre, plans to launch a GPS supervision project on wild elephant herds found in the province.
Dak Lak province moves to conserve elephants
Vietnam seeks ways to protect elephants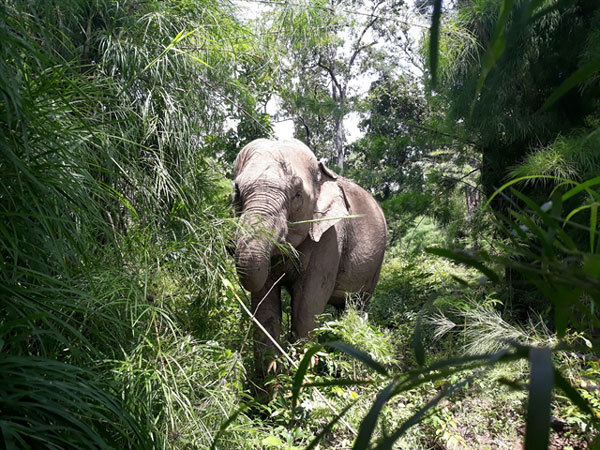 WWF-Vietnam and Dak Lak Elephant Conservation Centre plan to launch a GPS project on wild elephant herds found in the province. Photo courtesy AsiaAnimals
Representatives of WWF-Vietnam made the announcement at a workshop held in the Central Highlands province last week, focusing on the possibility of GPS applications in tracking wild elephants, building a database and reducing conflicts between humans and elephants.
According to experts from WWF-Vietnam, Dak Lak hosts the largest habitat of the endangered Asian elephant.
It said at least four Asian elephant herds, comprising of 60-70 elephants, live in the provincial Yok Don National Park.
However, their habitat has been narrowed due to rapid urbanisation and land expansion for farming, creating more conflicts between the animals and people.
A report from WWF-Vietnam showed that at least 25 elephants had died since 2009, 75 per cent of which were calves.
Director of Dak Lak Elephant Conservation Centre Huynh Trung Luan said the province had started an urgent conservation effort in 2011 which had achieved positive results including the reduction of human-elephant conflicts and eliminating illegal hunting.
He said the elephant conservation had been struggling with challenges including poor technical equipment to track elephants.
Yet a comprehensive research project on elephant allocation, habitat and migration had been completed, Luan said.
WWF-Vietnam said GPS necklaces were being used in elephant conservation projects in Myanmar, India, Sri Lanka and Malaysia.
Earlier this year, NGO AnimalsAsia and Dak Lak Province's Department of Agriculture and Rural Development also signed a co-operation agreement for elephant conservation in Vietnam from 2019-22.
Following the agreement, AnimalsAsia will provide US$60,000 to offer technical and expert assistance in elephant conservation and rescue skills for Yok Don Park as well as improving awareness among communities through communication and educations programmes and wildlife protection.
Since 2014, Animals Asia has provided assistance to the Elephant Conservation Centre in the province with veterinary practice, elephant care and management, animal welfare and improved infrastructure.
In 2018, AnimalsAsia also offered funding of $65,000 to stop elephant tours in the park.
WWF-Vietnam said it had given top priority to Asian elephant conservation from 2016-20.
WWF-Vietnam has been jointly working with the Forestry Administration of Vietnam to build a cross-border management project of biodiversity, nature and conservation of Asian elephant and tigers between Dak Lak and Mondulkiri in Cambodia. VNS