Residents on the outskirts of Hanoi affected by serious pollution have urged local authorities to pay them compensation by the end of this month.
Nam Son dump residents receive compensation
Hanoi rubbish dispute up as families await relocation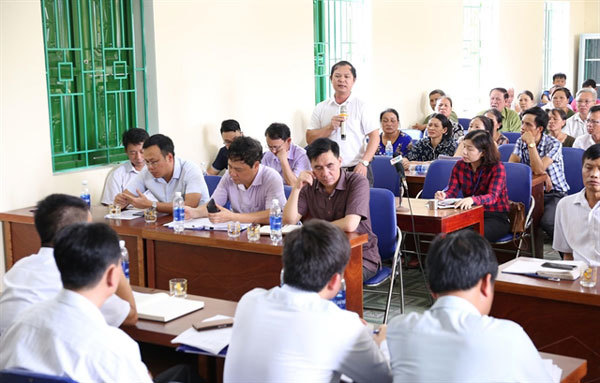 A resident puts questions to concerned authorities about the pollution caused by the Nam Son dumping ground in the dialogue on Wednesday. — VNA/VNS Photo Manh Khanh
About 120 households, representing residents in Nam Son, Bac Son and Hong Ky communes of Soc Son District, on Wednesday had a dialogue with concerned organisations about the pollution caused by the Nam Son dumping ground.
Speaking at the dialogue, residents urged district and municipal authorities and concerned organisations to speed up the process of ground clearance and pay their compensation this month.
They also said the compensation offered was too low, at only VND866,000 (US$37) per square metre whereas prices for land in the resettlement area were VND4 million ($170) per square metre.
In response, Soc Son District People's Committee detailed ground clearance policies and the difficulties in closing the Nam Son dumping ground, the biggest in the capital.
Nguyen Huu Hung, deputy director of Soc Son District Land Fund Development Centre, said the district paid VND90 billion ($3.9 million) to residents in Lien Xuan and Xuan Bang villages in Nam Son Commune on Tuesday. It paid VND89 billion ($3.8 million) to residents in Dong Ha Village of Nam Son Commune on Wednesday, and planned to pay VND34.45 billion ($1.5 million) to residents in Village 2 of Hong Ky Commune on Friday.
Hung said ground clearance in the three communes had been a struggle and affected the project's process.
Nguyen Quang Hoa, chairman of the Nam Son Commune People's Committee, asked district authorities to resolve every difficulty, approve plans about land and accommodations, and implement supportive polices within July.
Earlier this year, residents living around the dumping ground blocked garbage trucks from entering the area to oppose the sluggish process of land clearance and compensation for a relocation project.
The protest led to rubbish piling up on the streets and near apartment buildings in Hanoi's inner districts.
A project to relocate three communes was approved by local authorities in 2017 due to severe pollution.
Nam Son dump receives some 5,000 tonnes of garbage a day from inner districts.
After garbage trucks were blocked by local residents, the Ha Noi Department of Construction issued a temporary plan to treat the rubbish.
Rubbish from Hoan Kiem, Ba Dinh, Hai Ba Trung and Dong Da districts, which amounts to 215-430 tonnes per day, will be transported to Cau Dien and Lam Du wards in Long Bien District.
About 313 tonnes of rubbish from Long Bien District per day will be transported to the Kieu Ky Rubbish Treatment Centre in Gia Lam District.
About 405 tonnes from Thanh Xuan District and 165 tonnes from Hoai Duc District per day will be moved to the Xuan Son Waste Treatment Plant in Son Tay District.
Rubbish from Ha Dong, Nam Tu Liem, Bac Tu Liem, Tay Ho, Hoang Mai and Cau Giay districts will be sent to the Xuan Son solid waste burial ground in Son Tay District.
Rubbish from Dong Anh, Thanh Tri, Gia Lam, Me Linh and Soc Son districts will be treated in the localities.
VNS