The Vietnam Environment Administration has advised members of the public, especially children, the elderly, pregnant women and those with respiratory diseases,  to limit outdoor activities due to rising pollution.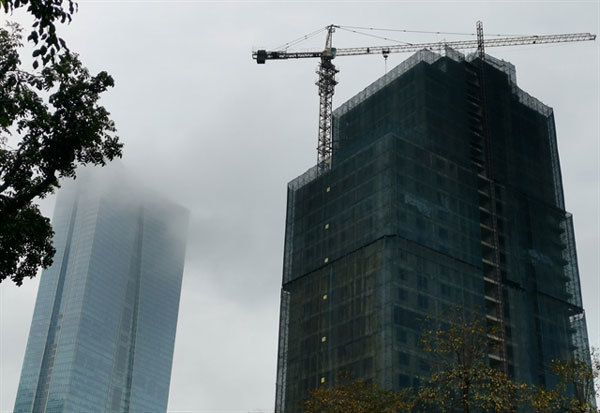 Lotte building on Dao Tan Street in Hanoi is clouded in smog. Construction work has been blamed as one of the contributors to the city's declining air quality. 
People should wear air masks and glasses when they go outside, the ministry said.
The ministry officially issued its recommendations two weeks after fine dust levels in Hanoi and HCM City started reaching highly unhealthy levels.
It warned that levels of PM2.5, a single particle with a diameter of less than 2.5 micrometres, could continue to remain high, especially at midnight and in the early morning. The phenomenon occurs due to dry sunny weather during the day and low surface air temperatures at night.
According to an air quality report for September released on Tuesday by the Viet Nam Environment Administration, PM2.5 levels in Hanoi over the past few days had reached their highest levels for five years.
The air quality index from September 12 to 29 showed PM2.5 levels exceeded the permitted limit according to statistics collected from 13 environmental monitoring stations in the capital.
During that period, Hanoi enjoyed only five days when the air quality was good. On the other days, the air quality index reached more than 100, which is classed as unhealthy.
Low rainfall was one of the reasons for the surge in fine dust last month, the report said.
Heat reverse and people burning straw in fields on the city's outskirts were also to blame for increasing levels of PM2.5, according to the report.
Air quality in Hanoi is continuing to worsen. The Air Quality Index on AirVisual, an international air quality monitoring facility that generates data from public, ground-based and real-time monitoring stations, reached the purple level (very unhealthy) at 7-8am on Tuesday morning and the brown level (hazardous) at 9am. At this level, air quality is deemed toxic and poses a serious risk to the heart and lungs. Everyone should avoid outdoor exertion.
Associate Professor Vu Van Giap, deputy director of the Respiratory Centre at the Hanoi-based Bach Mai Hospital, said: "Fine dust with super small diameters cannot be felt. When we breathe it in it goes into our blood and organs, causing inflammation and diseases to different organs."
If the air quality worsened, people with heart or respiratory diseases would experience difficulty breathing and cough more, he said.
According to the World Health Organisation, air pollution is a silent killer. About 30 per cent of deaths caused by lung cancer and 43 per cent of deaths caused by respiratory diseases in the world are related to air pollution. If there are no measures taken to protect the air, humans will be the first to suffer the consequences.
Nguyen Minh Tien, deputy director of HCM City's Paediatrics Hospital, advised people to use air filter masks which are able to filter 95 to 99 per cent of fine dust.
Normal masks filter only 30 to 40 per cent of dust. People should keep their houses and bodies clean and eat fruit and vegetables to increase resistance levels. 
Downpour expected to end air pollution in Hanoi
It is expected that in the next two or three days, downpours will come to the capital city and the air quality may be improved.
The air pollution index in the capital city of Hanoi has soared to hazardous levels over the past two days, and downpour is expected to end air pollution wave in the city, local media reported.
AirVisual, an international air quality monitoring application from IQAir which generates data from public, on-site and real-time monitoring stations, recorded on September 30 that Hanoi remained the most polluted city in the world with the Air Quality Index (AQI) exceeding the red-warning level.
At 8:00 am on September 30, a bird's eye view shows Hanoi blanketed by smog. AirVisual recorded Hanoi's AQI at 385 at 4:00 am, the highest level the city has witnessed this month.
Many places in Hanoi in recent days even reach purple-warning level for air pollution. Thus, children, the elderly and individuals with respiratory and heart diseases are recommended to avoid sustained and high-intensity outdoor exercises when AQI levels reach 150 or above.
Hanoi authorities have pointed to the large number of vehicles in the city's downtown as one of the main causes of air pollution.
Urbanization with many works in execution, seasonal weather transition and post harvest straw burning in Hanoi's suburban districts are also blamed for the low quality of Hanoi's air, said officials of the Hanoi Department of Natural Resources and Environment.
AirVisual measures Hanoi's air quality based on 10 monitoring stations run by Hanoi authorities and four by non-profit organizations. However, this result is vastly different compared to the AQI recorded by the automatic monitoring systems in Hanoi.
Besides, each country has different ways of assessing air quality. Thus, these are sources of reference and people should not be panic, the officials noted.
They said it is expected that in the next two or three days, downpours will come to the capital city and the air quality may be improved.
However, many residents have voiced their concern, urging the city to take action, instead of offering excuses for worsening air pollution.

Hanoi is promptly taking actions to improve air quality which has been assessed as very low for the past two weeks, according to municipal authorities.  

Air pollution in Hanoi has risen to serious levels over the past two days.  
VNS/Hanoitimes