Hanoi has announced it will spend VND265 billion (US$11.4 million) to implement the One Commune-One Product (OCOP) programme to boost the agricultural economy and rural development.
Hanoi, the home of the quintessential craft villages
Traditional crafts of Hanoi's Old Quarter
Hanoi oldest silk village preserves its own style
Exploring Bat Trang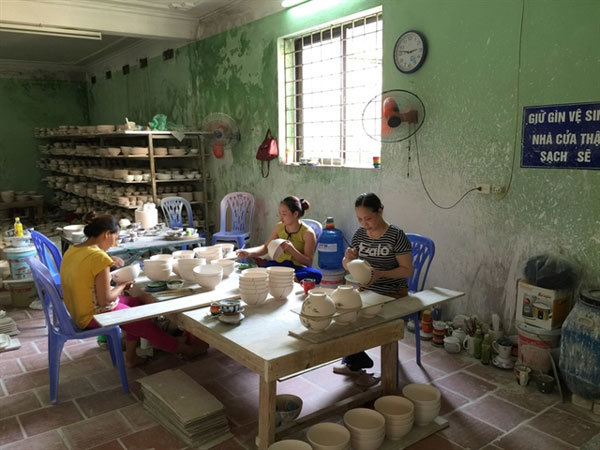 Workers make ceramic products in Gia Lam District's Bat Trang Commune. — Photo gomsuhuynhhuong.com
Under the programme, which will be carried out in 2019-2020, all managers of the OCOP programme at municipal, district and commune level and leaders of organisations, enterprises, co-operatives and individuals who register to join will undergo training to improve their capacity.
Hoang Thi Huyen, deputy head of Ha Noi Coordination Office on new-style rural area building, said handicraft villages and farm specialities were advantages for Hanoi to implement the programme, which aims to build new style rural areas and restructure agricultural production.
The city has 7,200 products suitable for six OCOP groups including food products, souvenirs and home decorations, and textile and garment products.
Despite the fact that Hanoi is beginning the initiative later than other localities, the city is striving to have up to 1,000 products qualified for the OCOP standards.
The city will support building a tracing system for agricultural products, as well as trade connection and training for officials and households who join the programme.
At least two models will be adopted by the city to link handicrafts with tourism. It will look to improve the origin tracing system for agro-forestry-fishery products and website for State management and demand-supply connectivity related to Hanoi's OCOP products.
Initially, Hanoi's OCOP programme will focus on product groups including food, beverages, herbs, fabric, souvenir – home decoration and agricultural tourism.
"Participants will receive support to invest in equipment for production, design and register their brand, access to capital, hire experts and distribute goods," Huyen said.
High potentials
Hanoi holds great potential to make progress in implementing the OCOP programme, according to Chu Phu My, Director of Hanoi Department of Agriculture and Rural Development.
The capital has 1,350 craft villages, accounting for 60 per cent of the total nationwide.
These craft villages are diversified and cover different trade groups including processing forest and agricultural products, lacquer, bamboo, embroidery, mechanics, sculptures and garments.
Many handicraft products associated with rural culture are almost intact and have developed into a profession, such as the carpentry village of Chang Son in Thach That District.
Bat Trang Commune, which has thousands of households engaged in pottery production, is another typical example.
According to Ha Thi Vinh, director of Quang Vinh Ltd. Co, 90 per cent of the company's ceramic products are exported to other countries, creating jobs for hundreds of workers. Thanks to the traditional craft, local people's lives have improved.
In addition, the city has many high quality agricultural products.
Solutions
To successfully implement the programme, the city's Department of Agriculture and Rural Development was asked to work with the Coordination Office on a new-style rural area building to set up an OCOP project for the city. The project aims to ensure at least 50 per cent of existing agricultural and craft products meet OCOP standards and link households with cooperatives and enterprises.
Hanoi's Department of Trade and Industry has issued plans for the selection of products and display venues for 2019-2020. Accordingly, the department will survey and select locations to introduce and sell OCOP products in railway stations, airports, bus stations, rest stops on highways, trade centres and supermarkets.
As a leader of an enterprise and chairwoman of Ha Noi Craft Village Association, Ha Thi Vinh suggested a steering committee for building and operate the OCOP programme should be set up as soon as possible.
"This is a good opportunity for craft villages to approach experts and scientists and apply advanced technology and equipment in their production. It also helps raise the quality to meet international standards, enhancing the value of the products," she said.
To speed up the implementation of the programme, Deputy Minister of Agriculture and Rural Development Tran Thanh Nam said it was necessary to get the political system involved in exploiting the advantages of the programme to serve rural economic development.
Each locality including Hanoi should seize its opportunities and restructure production, linking producers with markets and creating more high value products for OCOP programmes, he said.
VNS