Two female students from Tran Quoc Tuan High School have upgraded a so-called rice ATM into a 4-in-1 'Covid-19 prevention ATM which can disinfect hands and distribute instant noodle, rice and face masks.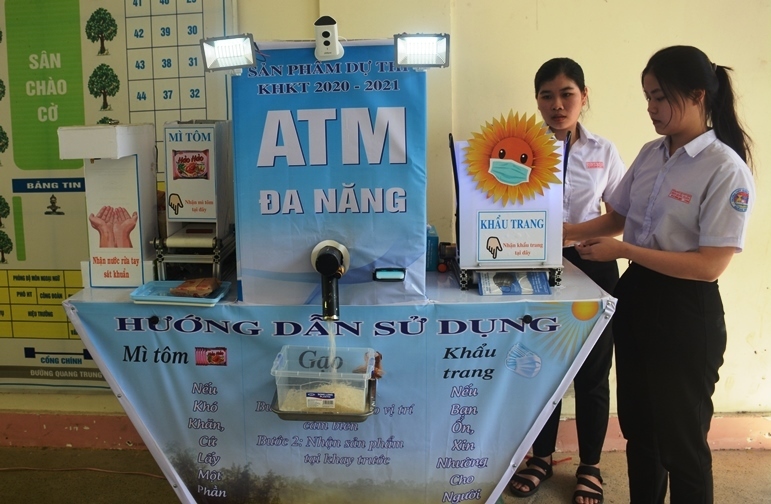 The students and their ATM
A multiuse ATM has been at the entrance door to the school for the last two months.
Every day, students queue up in front of the machine to get their hands disinfected and receive face masks before entering the school. They can also receive instant noodles and rice if they want.
The ATM was invented by Vo Le Xuan Thuy and Ho Nguyen Minh Thu, 12th graders at the school.
Thuy said in early 2019, she and former students of the school made an ATM distributing rice to needy people. The machine was created within a short time, so it was not perfect and it could not operate well.
Thuy, together with Minh Thu, a classmate, decided to improve the rice ATM and turn it into a multiuse machine The idea of the two female students then got strong support from teachers.
The machine was completed after 2.5 months. At that moment, Covid-19 broke out once again in some northern provinces and cities. They decided to put the ATM at the school's entrance door to help prevent coronavirus spread.
"We are happy that the machine has been running properly, with no trouble, though hundreds of students disinfect their hands and receive necessities every day," Thuy said.
According to Minh Thu, the machine is small, created with aluminum and steel frame. It has an automatic conveyor that provides face masks, noodles and rice; a hand sanitizer spray equipment; a tray that contains essentials; and sensor and machine control circuit.
When students gets near the machine, the sensor will recognize them. Within one second, antiseptics, instant noodles, rice and face masks will be automatically pushed out from the machine.
To make the machine, besides the existing ATM equipment, the students had to buy electronic devices and were commissioned to make the frame. They spent time reading documents to make the ATM and used a piece of code under the instruction of teacher Nguyen Thi Mai.
According to Thu, the machine costs VND6-7 million. It runs with solar power, equipped with an LED lamp and camera.
"We decided to use a LED lamp so that it can operate in the evening. We installed a solar panel for the ATM in case the electricity is cut," she said.
The parts can be assembled and disassembled easily. 
Le Bang

Hoang Tuan Anh, the creator of the 'rice ATM' which dispensed rice to the poor to help them survive the Covid-19 pandemic, is one of the 14 people nominated by VietNamNet as Inspiring Characters.

Two schoolboys in Binh Duong have created an automatic body temperature measurement machine that can also be used to disinfect hands and take the roll-call. The machine is being used at their school.