The Ministry of Public Security's Investigation Police Agency has initiated criminal proceedings against the director of Nhat Cuong Company, a major mobile phone dealer in Hanoi, for alleged money laundering.
Nhat Cuong Mobile's software services cost Hanoi over VND7.2 billion
Parallel import market distressed over Nhat Cuong Mobile
Hanoi's online public services unaffected by Nhat Cuong Mobile raid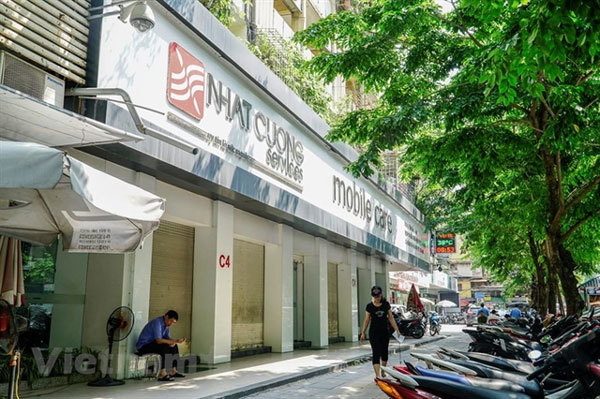 A Nhat Cuong Mobile store is closed down after the police initiate criminal proceedings and issue an arrest warrant for the company's director Bui Quang Huy in May. — VNA/VNS Photo Minh Hieu
Bui Quang Huy, 45, was charged with smuggling products in May. When the police attempted to arrest him, he fled the country.
The investigation found that Huy was investing money that had been earned from smuggling activities into Nhat Cuong Company and its branches to gain profit.
On Tuesday, the Investigation Police Agency added a money laundering charge against Huy.
The police have been focusing on investigating and identifying the crimes of those involved in the case and verifying the loss of State property.
On May 14, the Investigation Police Agency initiated legal proceedings against Huy and eight others on suspicion of smuggling and violating accounting regulations, leading to serious consequences.
Huy and his accomplices are accused of organising a transnational smuggling ring and establishing two systems of accounting documents to conceal trillions of dong worth of revenues.
The police, which conducted raids on multiple Nhat Cuong Mobile stores in Hanoi, confiscated thousands of mobile phones, iPads, and electronic and telecommunications components. All of the stores were forced to suspend operations.
Police have issued an international arrest warrant for Huy, who has fled the country. The other eight defendants are in custody.
Nhat Cuong Mobile is the brand of Nhat Cuong Trading and Technical Services Company Limited. It has had nine retail shops in Hanoi since 2001.
It has a guarantee centre in the northern region and an enterprise resource planning centre in the south.
VNS