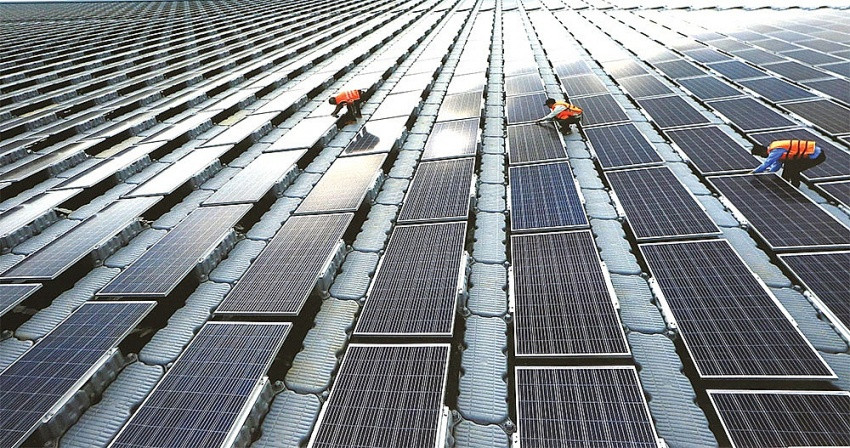 The use of solar power exploded beyond expectations before the pandemic kicked off, photo Le Toan
Last week, at the demand of Deputy Prime Minister Tran Hong Ha, the Ministry of Industry and Trade (MoIT) was requested to explain the accuracy of solar power statistics in the national Power Development Plan VIII (PDP8) for this decade. The MoIT has drafted the PDP8 six times thus far.
Ha also requested that the MoIT again explain the shift from PDP7 to PDP8, with the emphasis on solar and wind power, owing to discrepancies between the MoIT and Government Inspectorate data.
Prior to mid-2022, the inspectorate looked at the adoption of renewable energy power projects in the amended PDP7, with a particular emphasis on solar energy. According to the MoIT, the inspector general believes that only completed projects with undetermined power rates, projects with signed contracts for equipment procurement, and projects under construction with a total capacity of approximately 636MW should be included in the PDP8.
Approximately 30 meetings have been held to discuss and make comments on the draft PDP8 under the leadership of Le Van Thanh, another DPM. The draft PDP8 has been twice accepted by the National Appraisal Council, but the prime minister has not yet authorised it.
In the draft PDP8 that was submitted to the government in 2021, solar power capacity will remain at 8,736MW towards 2030. A number of projects already included in the revised PDP7, totalling approximately 6,200MW, will be delayed until after 2030.
However, at the end of May 2022, the MoIT requested guidance from the government on how to address the total number of solar power projects that have to be postponed until then. These are projects included in planning, approved for investment, or included in planning but not yet approved for funding, with a combined capacity of approximately 4,100MW.
This proposal differs from previous reports, and the prime minister requested the MoIT's viewpoint on the direction of processing.
In an explanation provided to the prime minister in July last year, the MoIT recommended deploying about 2,428MW for commercial operation until 2030. With an estimated total investment of around $500 million, the projects or portions of solar power plants whose development has been completed amount to over 450MW. There are about 1,980MW of projects that have been designed and authorised by investors but have yet to be implemented.
The MoIT indicated that the rationale for proposing to continue developing the aforementioned projects is to "avoid legal concerns, litigation, and compensation for investors". If these projects are authorised by the prime minister and permitted to continue deployment, the system's total power capacity would reach about 133,900MW by 2030 under the basic plan and 148,350MW under a high-load scenario.
Now, the MoIT wants to continue developing solar power projects with a total capacity of over 4,136MW that are now in the planning stages but have not yet been authorised by investors. These projects are expected to be in the planning stages until 2030.
These projects, according to the ministry, if implemented by 2030, would raise the proportion of renewable energy in the grid by nearly 26 per cent. This impacts the safety and reliability of the power system as well as the economic functioning of existing hydroelectric, thermal, and gas resources.
In March 2021, the MoIT first presented the draft PDP8 to the prime minister. Nevertheless, the calculated plan at the time was not accepted due to deficiencies in the size of power source growth, the structure of power sources, and the illogical regional balance. This results in substantial interregional transmission grid investment.
The plan was confronted with the greatest difficulty of guaranteeing energy supply security and providing sufficient electricity to fulfil the needs of socioeconomic development while improving its quality.
Minister of Industry and Trade Nguyen Hong Dien said during a private session of the National Assembly in October 2022 that the PDP8 is sluggish in terms of the move towards sustainable energy sources.
Minister Dien, who has presented a PDP8 draft to the government three times, said, "Constructing a PDP8 is like painting over an existing artwork. It has to reconcile the organisation of power sources with the framework of regions and provide coordination between supply, distribution, and planning."
Vietnam hopes to achieve industrialisation by 2030. The MoIT predicts the 2030 electricity demand under three scenarios that correspond to each period's GDP growth.
The MoIT recommends that the PDP8 performs under a high-load scenario with a stockpile of 15 per cent of the power capacity if the growth in large-capacity power sources falls short of the plan by only 85 per cent. This means that the electricity load will increase by 9.84 per cent per year from 2021 to 2025, which corresponds to a GDP growth rate of 7.5 per cent per year from 2021 to 2025 and 8.88 per cent per year from 2026 to 2030, with a GDP growth rate of 7.2 per cent per year from 2026 to 2030.
The installed output of power plants under this option will reach 145,930MW by 2030, exclusive of solar energy and co-generation sources.
According to data compiled by MoIT, 175 solar power projects with a combined capacity of 15,300MW have been approved and are undergoing planning. At the end of 2020, 131 projects with a total capacity of 8,735MW were in operation.
The proposed Power Development Plan VIII draft
Vietnam's total capacity of power sources would reach 130,370-143,840MW by 2030. Coal-fired power accounts for 28.3-31.2 per cent; gas-fired thermal power (including liquefied natural gas) 21-22.3 per cent; large, medium, and stored hydroelectricity 17.73-19.5 per cent; renewable energy sources (wind, solar, and biomass) 24-25.7 per cent, and electricity imports 3-4 per cent.
By 2045, the total installed capacity of power sources will reach between 261,951 and 329,610MW, with coal-fired power occupying 15.4-19.4 per cent; gas thermal power (including liquefied natural gas) 20.6-21.2 per cent; large, medium, and storage hydroelectricity 9.1-11.1 per cent; renewable energy sources (small hydroelectricity, wind power, solar power, and biomass power) 26.5-28.4 per cent; and imports 3.1 per cent.
In 2045, the proportion of electricity derived from coal will plummet from 29 per cent in 2020 to between 15 and 19 per cent.
Source: VIR