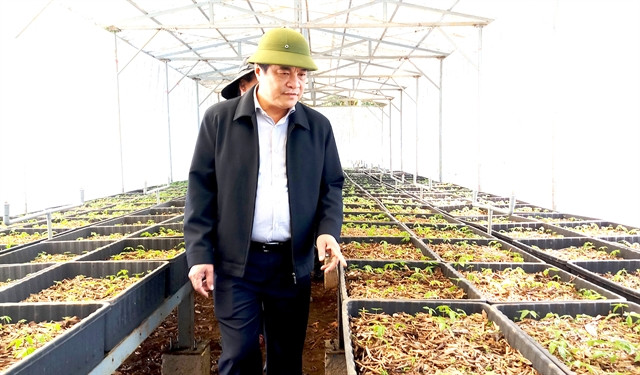 Provincial secretary Phan Viet Cuong examines the quality of panax ginseng grown at the Tra Linh Medicine Station. – Photo baodantoc.vn
According to Tran Quang Bao, vice president of the Viet Nam Administration of Forestry, 6,000ha of land has been cultivated for panax ginseng cultivation and development in Quang Nam and Kon Tum provinces.
Viet Nam aims to increase total land usage for cultivating ginseng to 200,000ha in the provinces of Quảng Nam, Lâm Đồng, Nghệ An, Lai Chau, Kon Tum, Lao Cai and Gia Lai by 2030 and target specific regions to manufacture ingredients which will be used for producing ginseng products in the same area.
The Forestry Administration will also work on policies to efficiently develop the ginseng industry in the country.
At a recent conference about the ginseng industry, Quảng Nam authorities suggested the Government form a programme of regulations on panax ginseng while also helping to attract business to invest in this product.
Besides that, a standard for quality control that aligns with the international standards should also be created to help ginseng products gain worldwide recognition, the authorities said.
After thoroughly studying the techniques to preserve the unique and original gene of panax ginseng, Quảng Nam authorities concluded that this type of root is one of the main products that will help the province's economy flourish.
In every harvesting season, Trà Linh Medicine Station, one of the main research sites on the gene of the ginseng in the province, collects between 100,000 to 200,000 seeds of panax ginseng in an effort to develop a higher quality ginseng root for the market.
In recent years, researchers have successfully embedded scientific methods into the growing process and received some promising initial results such as a higher percentage of new saplings and an increase in the number of grown ginseng roots.
Panax ginseng found in Việt Nam (Ngọc Linh ginseng) is an especially rare type of root that has never been found in any other part of the world.
The benefits of this root include strengthening the body's immune system and enhancing organs for people with asthenia or low blood pressure.
The ginseng has also been named by the Vietnamese Government a national product and is considered a national treasure.
Source: VNS