Vietnam needs to do more to combat wildlife trafficking

Nearly a decade ago, Vietnam lost its last rhino. Since then, the country has made great efforts to combat wildlife trafficking and protect biodiversity. 
 Việt Nam News talks to ambassadors and international experts about what Vietnam can do to put an end to the crime.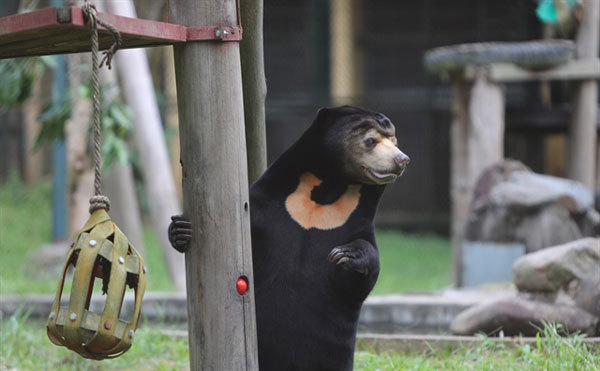 A bear at the Vietnam Bear Rescue Centre in Tam Dao National Park, Vinh Phuc Province. Bear bile is among the most popular wildlife products illegally traded in Vietnam. — VNA/VNS Photo Thanh Dat
Can you tell us about US-Vietnam efforts to combat wildlife trafficking?
Daniel Kritenbrink, US Ambassador to Vietnam: USAID is carrying out a programme called Saving Species designed to build Vietnam's capacity to combat wildlife trafficking, working with law enforcement to improve the legal and regulatory environment and also to help build the capacity of Vietnam's civil society sector working on the issue.
We have recently signed a memorandum of understanding (MoU) with the Ministry of Public Security and other departments.
As part of the MoU, we are going to work together to promote law enforcement co-operation. Early next year, the US Fish and Wildlife Service is going to appoint an attaché at the embassy, specifically to work on the wildlife trafficking issue with our Vietnamese partners.
These two primary programmes are designed to advance three main objectives.
We want to help strengthen enforcement of Vietnam's laws and regulations to combat wildlife trafficking, reduce demands for illegally traded wildlife and increase international co-operation.
Many organisations carrying out wildlife trafficking are involved in transnational crimes. This is a key point that I should emphasise.
We do think that working on the issue has an impact beyond just conservation, certainly it has security and economic impacts as well. As you know, there is a direct link between wildlife trafficking and corruption.
The thing we are encouraged by Vietnam is that the country's new penal code has very impressive and strict provisions to punish wildlife trafficking. Many recent busts and seizures have been quite impressive.
I think the situation is both urgent and dire. Vietnam has perhaps the number one market in the world now for illegal ivory, rhino horn and pangolin scales. Demand is much too high in our view. As well as periodic seizures that we have seen, we also hope to work with our Vietnamese friends to carry out investigations and prosecute major crime networks and their kingpins.

Many rhino horns and wildlife products seized in Vietnam have come from South Africa. As a source country, what has South Africa done to fight the crime?
Mpetjane Kgaogelo Lekgoro, South Africa Ambassador to Vietnam: South Africa is home to most of the precious species as well as the largest population of rhinos.
The rhino is important to South Africa both in terms of economic activities in savannas and our ecosystem.
Therefore, we pledge to join hands with different countries to save rhinos.
The geographic space where these animals reside is across borders of other South African countries including Mozambique and Zimbabwe.
In terms of local level attempts, we have raised awareness campaigns for people living around the national parks to support the movement.
At cabinet level, we have a charter in place that involves different state departments.
It is a very challenging task to combat wildlife trafficking. We do it together with Interpol, we have agreements with different transit and destination countries to build awareness campaigns with them. In Vietnam, we have campaigns in education.
As people think that wildlife products are medicines or status symbols, we believe educating children to know the facts about that will help in the long run in fighting wildlife trafficking.
Moreover, we have a DNA testing technique. When one product of a country is discovered in other parts of the world, we can trace the origin of that species to see whether it is from South Africa. It helps us to locate the scene of the crime.
For instance, when Vietnam detected a case this year, our testing force came to conduct a test to establish the exact origin of the animals in South Africa.

What do you think about Vietnam's efforts to combat wildlife trafficking? What are your recommendations for Vietnam's Government and civil society to enhance wildlife protection and conservation?
Steph Lysaght, Deputy Head of Mission at British Embassy Hanoi: There is a UN report this year which says not only iconic species are in danger but millions of species in the world are in danger. This is a threat that mankind has never known before, called the sixth mass extinction.
It is not just animals in minor that we need to care about, it is a whole range of animals under threat. We need to change our mindset about the preservation of biodiversity.
This is not just the illegal trade as a problem. There are other interactive issues that we have to deal with such as climate change, and approaches to animal habitats and land use.
Transnational criminals take wildlife from Africa through Vietnam to other countries. But please don't fall into the trap of thinking that Vietnam is only a transit country.
Vietnam is also a destination country and we need to raise awareness about that. Vietnam has already lost many iconic species.
We should focus on the role that Vietnam can play positively in reducing the crime and help people to understand how they can protect biodiversity, and we need law enforcement to stop criminal groups.
Some of the changes that I have seen in Vietnam are that we have passionate and skilled people across the Government who are trying to do the right things, and I am really inspired by NGOs in Vietnam.
People are now better informed about what the problems are. However, we need to understand that we have not yet won this battle.
We are seeing more animals successfully smuggled through Vietnam. What we have done is not enough and we need to commit to each other that we can do more to win this struggle.
The UK prime minister announced in New York a new fund which he called biodiversity funding, and that is going to be around US$1.3 billion. The aim of that is to significantly increase what the UK is doing around the world to strengthen law enforcement to protect endangered species and reduce the loss of their habitats.
It is still a debate to come up with a timetable for it but Vietnam is very much in the minds of people in the UK and we value your efforts to solve a global problem.

What do you think is the biggest challenge Vietnam has faced in pushing back wildlife trafficking?
David Lawson, Chief of Party of the USAID Savings Species Project – Vietnam: I think the biggest challenge is awareness.
When a wild animal or plant is taken away from its natural habitat illegally, it is no longer a wildlife issue, it is a criminal issue. And we need different sets of skills to address the crime.
Awareness about the scale of the problem is probably the most important issue that we have to face today.
People need to appreciate the scale of problem that affects us as humans.
If we do not protect the environment, we will eventually suffer for doing nothing.

Vietnam remains a hot spot for wildlife hunting and trafficking despite efforts to curtail it.

Vietnam is among 16 countries with a high level of biodiversity and is also among the biggest hot spots for wildlife trafficking.
VNS