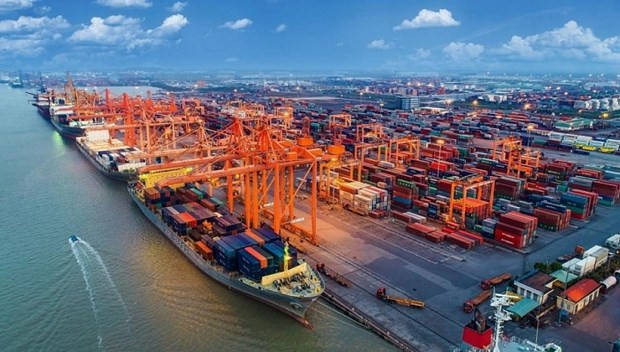 In the period, Vietnam exported about 136.17 billion USD worth of goods, a year-on-year drop of 11.6%, while imports totalled 126.37 billion USD, down 17.9% year on year.

As many as 23 export items joined the more than one-billion-USD club, making up 87.4% of the total export turnover.

Regarding the structure of exports, processed commodities earned 120.24 billion USD (88.3%); agro-forestry products, 10.79 billion USD; aquatic products, 3.37 billion USD; and fuel and minerals, about 1.77 billion USD.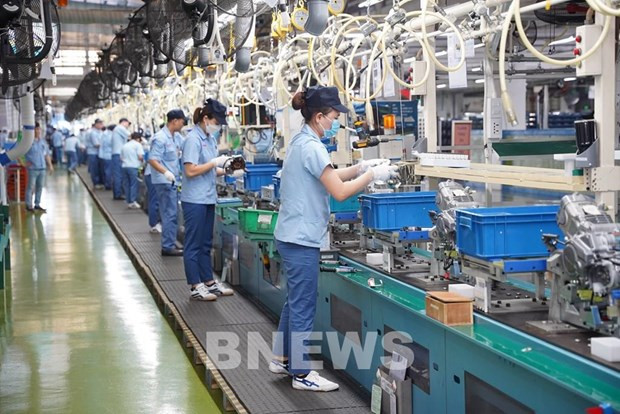 Workers at a factory of Yamaha Motor Vietnam. (Photo: VNA)
As for imports, the domestic economic sector imported 43.95 billion USD worth of goods, down 18.5% year-on-year while the foreign-invested sector imported 82.42 billion USD worth of goods, down 17.5%.

Of the import revenue, 118.31 billion USD was spent on production materials and 8.06 billion USD on consumer goods.
The US was the biggest importer of Vietnamese products with 37.2 billion USD, while China was the largest import market with 43.4 billion USD.

Given unpredictable developments in import and export activities, the Ministry of Industry and Trade is continuing to closely monitor developments in the world market and propose cooperation frameworks and solutions to develop traditional markets and diversify export markets. It will also continue supporting businesses to take advantage of signed free trade agreements (FTAs) to effectively exploit markets and boost exports.
The ministry will continue diversifying export markets and products, focusing on developing exports through cross-border e-commerce, and foreign distribution systems, promoting brand development for Vietnamese goods, and increasing the export of highly-processed goods and those made with high technology, having a high localisation rate.
The ministry considers e-commerce an important distribution channel, especially for agricultural products and consumer industrial goods./. VNA