Achievements in urbanization must not be covered with garbage

People throughout the country will join forces to eliminate landfills and build a waste treatment industry, contributing a new achievement to the urbanization process.
Vietnam is in an urbanization boom. Prior to doi moi (renovation), there were only three central cities, namely Hanoi, Hai Phong and HCMC. In 1997, Vietnam had one more central city – Da Nang - and in 2004, Can Tho was added.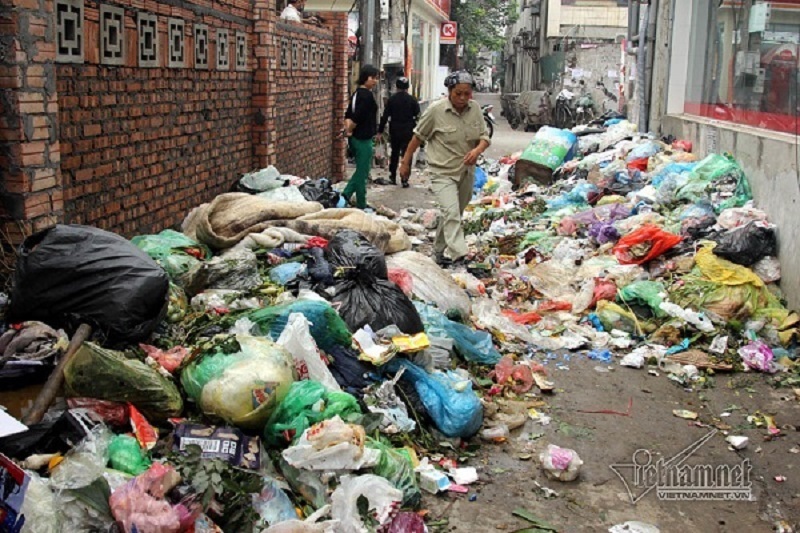 By 2015, the number of urban areas belonging to provinces (cities and county town) had reached 110, while the number of urban areas at district level had reached 613. Currently, Vietnam has 819 urban areas in total, or 200 more than in the early 20th century.
In terms of population, the urbanization rate has increased from 24 percent in 2000 to 40 percent in 2019. The figure is predicted to increase by one percent on average to hit 50 percent by 2030.
However urbanization has led to the flooding of waste in urban areas.
The waste was still bearable 20 years ago, but became unbearable to most people 10 years ago and has now turned into indignation. Residents in many urban areas, including the high-end Phu My Hung, have had to leave their homes for other places with better environmental conditions.
At many towns' and cities' landfills, people have set up barriers to prevent trucks from entering the landfills and dump garbage in places which have become overloaded and as high as mountains, with bad odors and flies, polluting the underground water.
Urban waste has spread throughout the countryside, clogging many rivers and covering many beaches, settling deep into the ocean floor. Vietnam is well known in the world for many beautiful sites, but it has also been known as a country with lots of waste. If this situation persists, the achievements of urbanization will be swept away.

At many towns' and cities' landfills, people have set up barriers to prevent trucks from entering the landfills and dump garbage in places which have become overloaded and as high as mountains, with bad odors and flies, polluting the underground water.
Many reasons have been cited for the current situation, including unreasonable planning, the public's low awareness, the lack of capital and the lack of modern waste treatment technology.
Meanwhile, this must be mainly blamed on people and officials, because they are the factor which determines the success of everything, from policies to revolution, from renovation to development and the environment.
Urbanization is a systematic development process. Ideally, that system relies on the achievements of smart cities. But a few decades ago, urban planning was created when the achievements of smart cities had not been gained.
There have been many problems of urban development planning in the past decades that planning did not take into account, including urban waste. Even the two megacities are still using the dumping method that was applied 30 years ago, though they have made big progress in urbanization.
Lacking money is the reason cited by agencies to explain the improper treatment of waste. Modern technologies may cost several million, several tens of million dollars. However, in fact, the amount of money was small compared with the huge sums of money lost in transport and water supply and drainage projects. In other words, the flooding of waste in urban areas which lasted many years must be blamed on people, especially the leaders of agencies.
The achievements gained in the urbanization process over the last three decades will not be 'swept away' if officials, especially the leaders of branches and agencies, soon set up a plan at the national level on treating urban waste throughout the country.
In general, the plan needs to eliminate the current measure of burying waste. Technologically, the measure is anti-scientific; socially, it is a germ of instability; and economically, it is a wrong choice as it doesn't consider waste a resource to develop.
If considering the matter from the angle of sustainable development, it is a failure.
Vietnam needs to strive to replace the landfill method with treatment with modern technologies on different scales, depending on the size of urban area. In principle, waste must be sorted at source, collected and carried to plants. Organic waste must be processed into fertilizer, while inorganic must be partially recycled or burnt to generate electricity, while ash and slag can be used to make building materials.
The plan should set up a goal that all the 819 urban areas can have their own waste treatment plants. Of these, 160 urban areas from super cities to fourth-class urban areas need to build modern waste treatment plants, while 660 fifth-class urban areas will follow them.
Regarding investment, it would be better to encourage private investors to make investment in plans with incentives offered by the state: investors can rent land at zero dong fee, can access bank loans at preferential interest rates, and can receive tax exemption if plants still cannot make a profit.
If the plants take a loss, the state should subsidize ad it is doing with bus companies. The budget for the subsidy could be from the waste treatment fee to be collected from families.
In urban areas, where there is no private investor in waste treatment plants, the local authorities should appoint a state-owned corporation to do this. In principle, things which cannot be done by the private sector will be undertaken by state-owned enterprises.
People in Hanoi have set barriers to prevent trucks from bringing garbage to the 157 hectare Nam Son waste treatment complex in Soc Son district which opened in 1989. The municipal authorities are considering spending VND3.4 trillion to pay locals to relocate to other places.
The same has occurred with Khanh Son Landfill in Da Nang, which has existed for 30 years. The city promised to remove the landfill by 2020, or 2022 at the latest. However, it has recently announced a plan to build a waste treatment plant there. People hope that Da Nang will be the first city in the country which has waste treatment plant running with advanced technology.
Meanwhile, the most modern waste treatment plant is expected to be built in the southern part of HCMC and Cu Chi district. 
Dinh Duc Sinh

Vietnam is among the countries discharging the most plastic waste worldwide, while its recycling rate is low and its policies have failed to cope with the increase in plastic waste, according to a released report by Ipsos Business Consulting.  

Da Nang will spend an estimated VND8.54 trillion on investment projects to classify and recycle solid household waste, according to a plan issued by the municipal government.