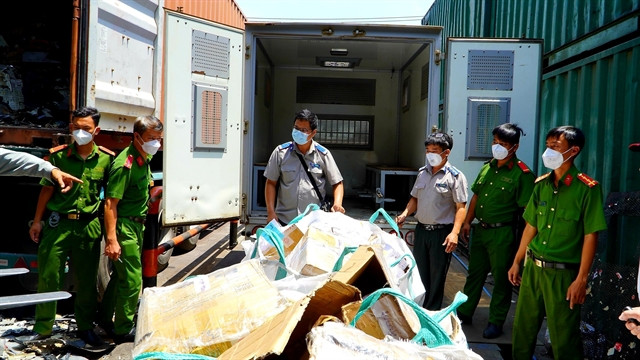 Police forces prepare to destroy seized drugs in HCM City. — VNA/VNS Photo
According to a report presented at the third conference between the police forces of Việt Nam and Cambodia against narcotic crimes, the two countries' collaboration on fighting has led to more than 2,000 cases being opened, resulting in more than 3,000 arrests in 2022.
The Vietnamese and Cambodian police have closed four critical cases and detained two dangerous criminals at the head of multiple drug trafficking rings across the border.
Initial investigations revealed that they transported tonnes of drugs into Việt Nam.
Major General Nguyễn Văn Viện, director of the Narcotics Investigation Police Department, also known as C04 (under Việt Nam's Ministry of Public Security), said at the event: "If it were not for the smooth coordination between the two sides and the determination of the Cambodian police, the arrest would have been extremely difficult."
Lieutenant General Khing Sarat, director of the anti-drug police department (under the Cambodian interior ministry) said that information exchanges between the two countries at national and local levels have been effective, which have contributed to the successful operations of the Cambodian authorities.
He added that Cambodia would continue to accelerate the investigations of major cases to tackle the masterminds behind the drug rings while also expanding operations regarding money laundering related to these crimes.
The authorities will also strengthen the control of chemical imports to prevent drug criminals' access to these products.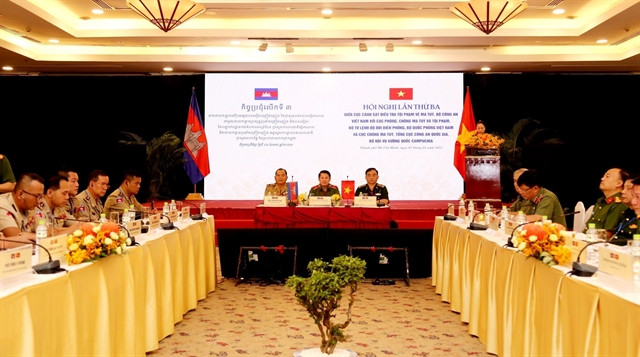 Anti-drug police forces of Việt Nam and Cambodia at the conference in HCM City on Thursday. — VNA/VNS Photo
Major General Nguyễn Văn Viện said that the two police forces would continue exchanging information through the established hotline and the border liaison offices (BLO).
The two police departments will also establish special cases of narcotics crimes for further collaboration. He said there are still approximately 16 wanted criminals suspected of hiding in Cambodia.
Regarding the situation in HCM City, C04 deputy director Colonel Hoàng Tâm Hiếu said that the drugs are mainly sourced from the 'Golden Triangle' – the border area between Thailand, Laos and Myanmar – through Cambodia and into Việt Nam.
Some of the imports are consumed in Việt Nam, where HCM City is a large market, while the rest are transported to other countries in the region.
HCM City had recently recorded several cases where foreigners entered Việt Nam under cover of tourism or business to connect with the drug rings and set up front companies for illegal narcotics trafficking.
The conference will continue until January 7. — VNS