This is the way Vun Art Cooperative works to bring hope to disadvantage people.
Le Viet Cuong introducing paintings made from fabric scraps by Vun Art members
Having been diagnosed with polio since he was a child, Le Viet Cuong, Chairman of Ha Dong district's Association for People of Disabilities had undergone dozens of surgeries before he could walk in his own feet. As a person with disability, Cuong understands the difficulties facing others like him when applying for a job.
That is the reason why he founded Vun Art Cooperative in 2017 to provide training and job opportunities for the disabled, helping them to improve their living standerds and integrate into the community.
Cuong had several difficulties during the first days of Vun Art's operation. He had to ensure his workflow at his office while spending time to visit wards in Hanoi to collect lists of people with disabilities and encourage them to join his project.
He also had to call for financial support to provide accommodation for the project members and visit professional painters to learn how to make a painting by putting pieces of fabric together. He then carefully instructed each step of process to his team members.
Cuong said that he wanted his products to reach customers due to their charm and unique features rather than the community's sympathy for people with disabilities.
That urged Cuong to figure out ways to increase the durability of the products and raise the aesthetic features of the paintings. Fortunately, he received support from Dang Thi Khue, a 74-year-old painter famous for her installation exhibitions at home and abroad.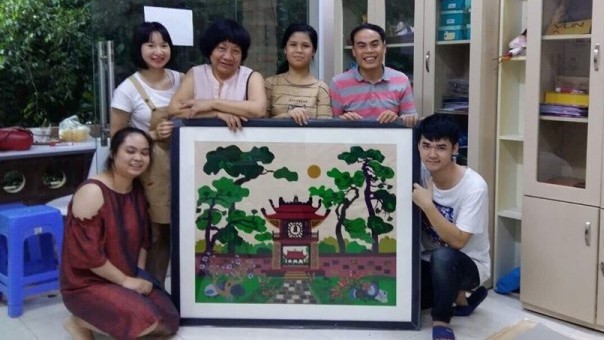 Painter Dang Thi Khue (standing, second from left) and Vun Art members posing with a fabric-collaged painting featuring Hanoi's Temple of Literature (Photo: phunuvietnam.vn)
Over the past year, come rain or shine, Khue has visited Van Phuc silk village every day to provide instructions for Vun Art members, helping them improve their skills and inspire their love for traditional culture.
Resultantly, Vụn Art's artwork takes inspiration from various genres of Vietnamese folk paintings, including Hang Trong, Kim Hoang and Sing Village.
Despite having experience in teaching fine arts to amateur and non-professional people, Khue acknowledged that she had numerous obstacles in training for people with disabilities. It is difficult to create a work of art, and the job is even tougher when it is done by the disabled, particularly those with visual impairment, hearing impairment, and Down syndrome.
Therefore, Vun Art not only brings job opportunities to its members but also helps them to integrate into life through the arts.
Khue said that she initially intended to provide assistance for the project during its first stage of establishment. However, the encouraging progresses made by her students and the sincere thanks from the students' families as well as the huge appreciation from the community for Vun Art have motivated her to stay whole-heartedly connected with the project.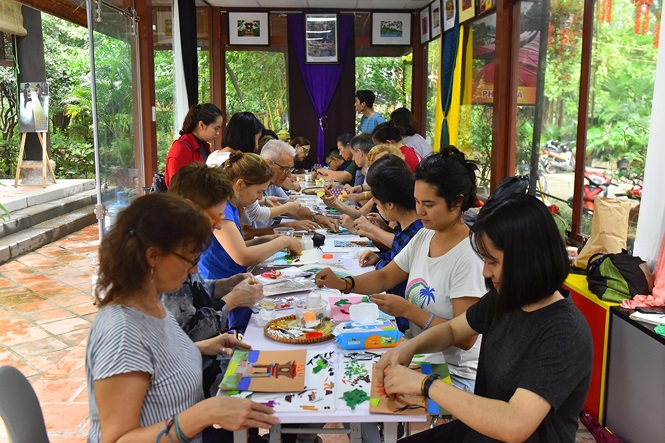 Visitors trying their hands at making paintings from fabric scraps during their excursion to Van Phuc Silk Village (Photo credit: Nha Khanh)
Vun Art now provides stable income for 15 members and several internees, whose silk collaged paintings have become a favourite souvenir product for visitors to Van Phuc silk village.
To diversify their products, Vun Art members have created postcards, toys and handbags from fabric and silk scraps. Le Viet Cuong has also worked with foreign volunteers to open excursions to Van Phuc silk village, which invite participants to join a silk collage workshop and a village tour. All proceeds go to Vun Art.
Each product in Vun Art is attached with the words: "A scrap of fabric can contribute to a painting if it is put in a right place. A person with disability can also live a life of contribution if they find their right place." This is how the cooperative has worked to bring hope to underprivileged people.
Selected products made by Vun Art members: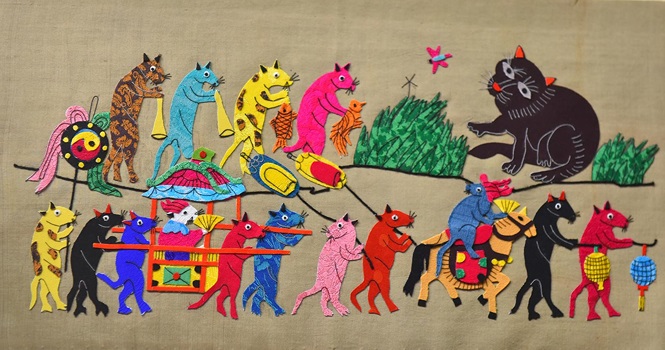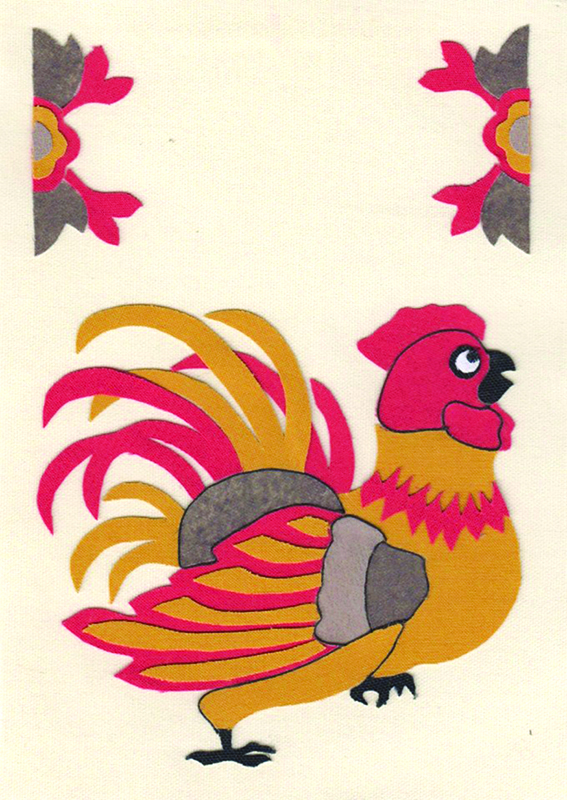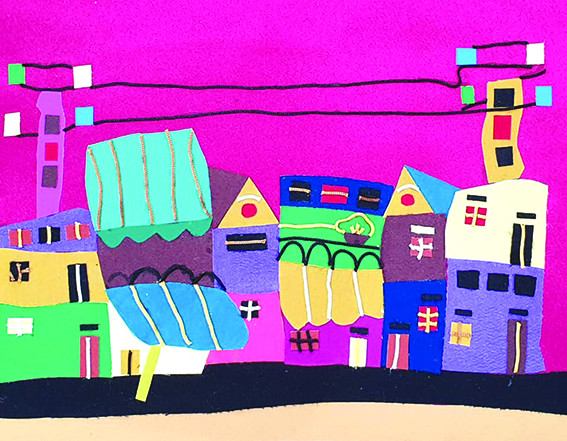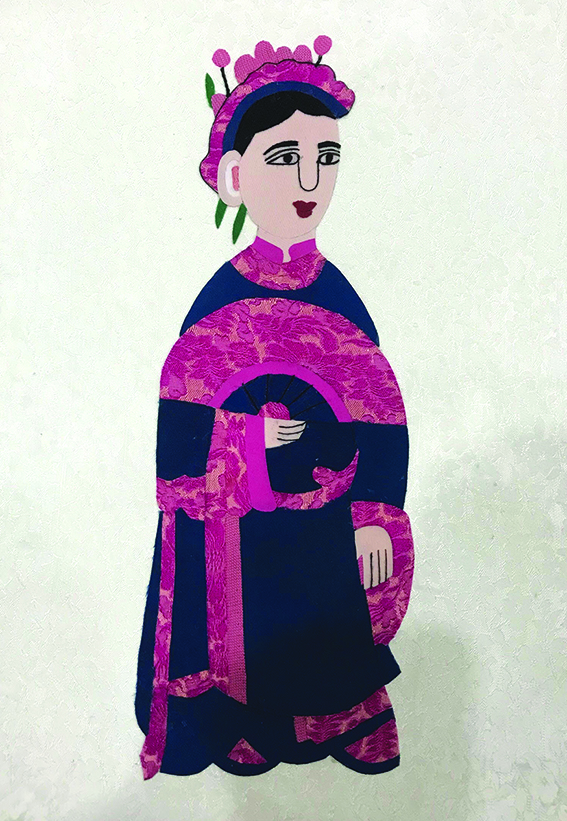 Nhan Dan