The story of Bong, the bamboo fish built to protect Danang's beach from plastic waste.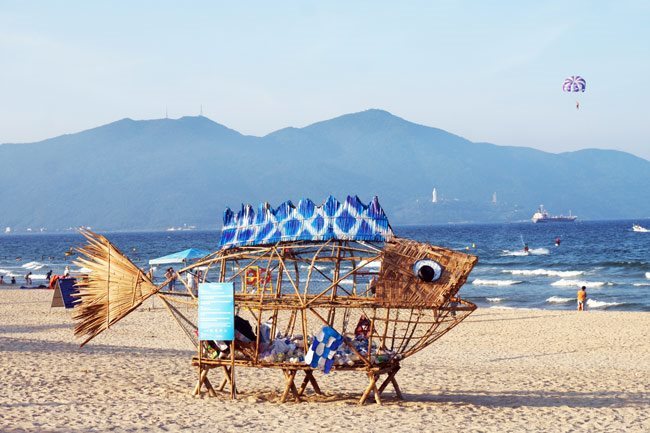 Bong, a few days after the opening - PHOTOS: COURTESY OF DEREK WELLS
Quite a few recent works of art have been created—and often gone viral—in response to the global problem of environmental pollution.
Many of these, such as Von Wong's Strawpocalypse installation in HCMC, recycle waste materials in order to raise awareness, but fewer have actively sought solutions to the waste disposal problems they highlight.
Recently, a group of expat and Vietnamese volunteers in the coastal city of Danang were inspired by the concept of combining message and functionality to create Bong, a large bamboo sculpture in the shape of a fish in the busiest area of the city's famous My Khe Beach.
Bong serves as both an awareness-raising work of art and a practical means to alleviate littering and give visitors to the beach a fun way to help clean it up. The story of its creation has the potential to inspire anyone who wants to make a difference in their adopted home.
A desire to clean up
(From L): Nguyen Duc Vu, Tyler Smith, Robynn Louw and Sarah Field on the opening day
Bong is the result of two months of work led by Sarah Field, an ESL teacher who came to Danang from Zimbabwe in 2018 with her husband Collin when he was contracted to build an industrial laundry and uniform facility at the Hoiana Integrated Resort near Hoi An.
The two would often take walks along Danang's famously beautiful My Khe Beach, often considered Vietnam's best. There they were upset by the amount of trash they saw lying around, as well as the many areas with inadequate disposal options.
"It's been disturbing us since we've been here," Sarah said. "Bits of the beach will be really clean and bits will be really terrible. We would pick up stuff as we walked. I've picked up syringes, needles, and broken bottles."
This experience inspired Sarah to research waste solutions online, where she stumbled on a photo of a sculpture on Malpe Beach in India.
Titled Goby, this work by Janardhan Havanje takes the form of a fish made from scrap metal and mesh, with an open mouth where people can throw recyclable waste like plastic bottles and aluminum cans.
Thus inspired, Sarah intended to make a localized version of the same idea, calling it Cá Bống, Vietnamese for "goby," which was soon shortened to simply "Bong."
Being both foreign to Vietnam and new to Danang, Sarah lacked the necessary connections to make her idea happen. It was the administrator at her apartment, Nguyen Thi Huyen Trang, who came to the rescue, telling Sarah that her martial arts instructor worked for the local government and may be able to help.
Through him, Trang got the contact information of Mr. Nguyen Duc Vu, director of the Son Tra Ecotourism Seas Board. Sarah wrote a three-page email outlining her idea to Vu, which Trang translated.
"I never in a million years thought anybody would go for it," she said. "But Collin said to give it a bit of time."
Gathering a team
Collin's judgment soon proved correct. After a week of back-and-forth emails, Trang was able to arrange for Sarah and herself to have coffee with Nguyen Duc Vu and Hoang Phuc Lam, the latter a young official at the department. Lam's primary job was to research and help the board with promotions.
Excited by the potential of her idea, Lam put Sarah in touch with Chris McBride, an artist who runs The Workshop art café in Danang.
Chris worked with her to create a sketch that would become the basis for the sculpture, a vision that stayed remarkably true to the results. But it took another connection to bring it into the real world.
Tyler Smith, a friend of Sarah's daughter, had lived in Danang for a few months. When Sarah told him about her plan, he took an immediate interest and connected her with his friend Robynn Louw, a qualified architect who was happy to help turn the concept into reality.
The team's initial idea was to construct the sculpture from a combination of poly pipe and bamboo, with a base of concrete and steel. However, a visit to the Taboo Bamboo Workshop in Hoi An quickly changed their minds.
When they told their plans to Tan, the owner of Taboo, he explained that piping, metal, and concrete are poor fits for the local climate. Instead, he said "Why don't you just make it out of bamboo?"
Tan was a bamboo artisan who had used it to build his home and car, so the team trusted that he knew what could be done with the material. They left Taboo with photos of the lashing technique that Tan used in his work, as well as advice from him on which types of bamboo to use. With his encouragement, they taught themselves many of the remaining techniques.
Another artisan showed them how to best cut bamboo, and Sarah's childhood on a farm had made her an old hand at tying strong knots. Most of the rest came from pictures of Tan's work, videos they found online, and trying until they got it right.
Meanwhile, Lam was gathering his own crew. Using the Indian Goby photo, he created a Facebook group called Volunteers of Danang Beach which soon gathered over 200 members—most of them local university students.
He posted regular updates on the project and, when the time came, arranged a meeting for those who wanted to help.
The volunteers had their first meetup at a local restaurant and gathering space Urban Square. Eight potential volunteers showed up, most of them young female university students. "I saw the project on Facebook and registered for it," volunteer Diem My says.
"Nobody else wanted to be the leader, so I thought I can." A junior at the Danang University of Economics, My's English ability and work ethics soon made her a crucial member of the team who was able to spread word of the project to her fellow students.
Building Bong
Volunteers pose in front of Bong on the opening day
The team raised funds for materials—mostly bamboo and leaves, with hessian yarn and fishing line for binding—from a variety of Danang small businesses, including several international schools and academies. Collin's employer Hoiana donated to produce T-shirts and printed materials featuring Robynn's design.
They estimated that construction of the sculpture would take about a month to complete, working mainly in the morning to avoid heat and allow for many volunteers' afternoon schedules.
However, they didn't count on the waves of volunteers who showed up to help. Twelve came that first day, and more followed, drawn in by Facebook, friends, or just curiosity as they passed by.
"Many expats want to give back to Vietnam as thanks for being able to live in this beautiful place, but they don't know how," says Hazel Maria Mercano, a volunteer from the Philippines.
"We realized we have to have locals involved, and they're the ones who did most of the real hands-on work. Some of them don't speak much English and we don't speak much Vietnamese, but we did our best to communicate. Sarah helped teach them English, so they were able to learn and practice while they worked."
Eventually, 31 volunteers would contribute to the project, including 22 Vietnamese and nine expats.
They mostly worked in the shade of palm trees on the sidewalk, next to a lifeguard tower where Lam arranged for them to store the materials, until Bong grew too big and had to be moved to its current position on the beach.
They began by following the guidance of Sarah and her team, but were soon able to do a lot of work themselves.
"I learned about nailing and bending, and I got to improve my English and my confidence in myself," volunteer leader Diem My says.
"My volunteers went to Hoi An to cut strips of the tree with a dangerous knife [for binding] and bring it here."
They also received help from some unlikely places, as Robynn, the architect, recounts:
"A parasailing team of older Vietnamese men on their lunch break came over still in wetsuits and used their decades of skill to help us tie the base together better than we could have. One came out later to see the fish when it was complete, and I could see his happiness. That was a highlight of my career."
"People walked away from this every day with a sense of achievement," she adds. "They could say 'look what we did today.'"
Ultimately, Bong's construction was finished in just two weeks of work. It also features foam material from flip-flops in the fins and lips, donated by students at the local Little Giants English Academy. A door in the side allows local informal recyclers to easily access its contents.
On the last day of work, some of those students came to visit the site, carrying fish drawings to be judged by Vu. They also brought a bag of recyclables, which they took turns excitedly throwing in Bong's mouth.
The next morning, Saturday, May 11, was Bong's official opening event. Team members, government officials, and local reporters gathered at 7:30 on an already hot morning to listen to speeches from Vu, Sarah, and Lam celebrating the project's completion and thanking everyone involved. Towards the end of her speech, Sarah paid tribute to the power of working together for a cause.
"You have all come to realise what is made possible by taking an idea and turning it into reality," she said. "Your determination and desire to learn, together with your faith and collaboration with each other, has been at the heart of this success."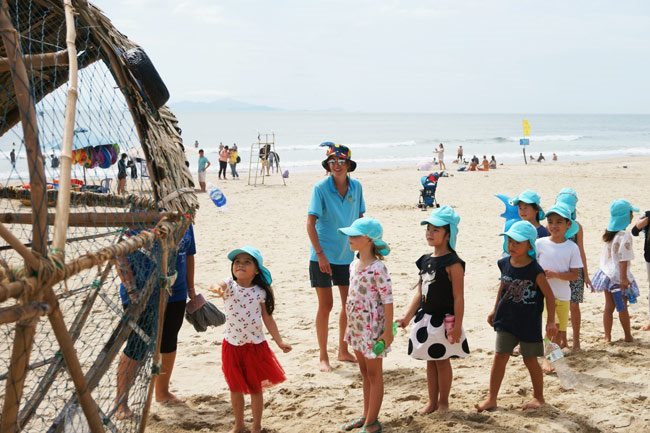 Students from Little Giants throw plastic bottles into Bong
Most of the volunteers showed up in blue Bong T-shirts. Smiling and cheering, they posed for photos, danced to the loudspeaker, and played games with students from several local academies (and the occasional government official): Pin the tail on the Goby, painting on a board donated by Workshop, throwing plastic in Bong's mouth, and several more.
Posters showing the dangers of single-use plastics lined the sidewalk, and a few small businesses set up stalls selling food and drinks, handmade art, biodegradable food containers, and educational books.
The turnout and celebratory atmosphere was a testament to what a mixed crew motivated by an interest in preserving the environment could achieve in a short time.
"I was worried about how it would turn out," Lam said of the event. "But it went well beyond what I imagined. I was happy that everyone received the reward they deserve."
Looking toward the future
Sarah admits that she was surprised by the amount of interest in the project, as well as the fact that they were able to pull it off at all.
"I don't think we realized the enormity of what would happen with this project," she says. "To be able to organize a day like Lam did, you need cash behind you. If we're going to do another project, we'll need to take that into consideration. It could grow into something much bigger, but we have to follow board protocol. Because we're known now, they should have an easier time raising more funds."
As for future plans, Sarah is cautiously optimistic.
"We've had fun doing this project, involving the community, and raising awareness. We're privileged to stay here and we love it here, but we're going to let local interest guide us and see how people like it before we decide on what to do next. We'll give people, especially kids, time to become aware of how it works, and let them learn by example."
Volunteer Diem My shares Sarah's long-term perspective towards making a difference. "We volunteers have gained an awareness of how we can improve and protect the environment, starting with our beach," she says. "And we want to share that with people in Vietnam and around the world." SGT
Derek Wells