Formosa meets standard three years after pollution incident: environment ministry

Vietnam's environment ministry on Wednesday confirmed that Formosa Ha Tinh had finally met national standards on sewage, three years after causing the country's biggest environmental crisis ever.
Formosa waste exceed hazardous thresholds
Agencies argue whether Formosa's slag is recyclable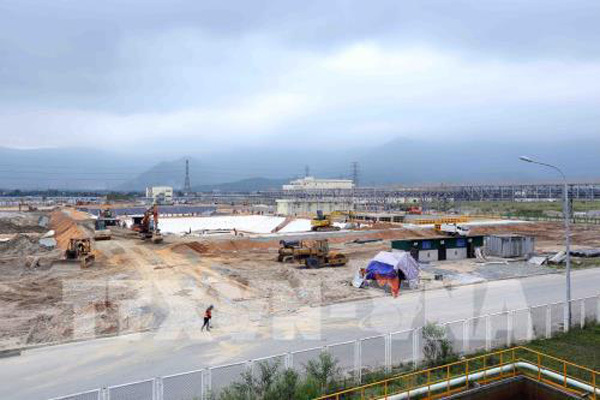 The Taiwanese steel plant Formosa Hung Nghiep in the central province of Ha Tinh. — VNA/VNS Photo Quang Quyet
The Ministry of Natural Resources and Environment on Wednesday held a workshop reporting its assessment on the wastewater treatment of the Taiwanese steel plant Formosa Hung Nghiep in the central province of Ha Tinh.
Deputy environment minister Vo Tuan Nhan said inspections showed the steelmaker had completed most of the improvement work to its wastewater treatment system demanded by the Government.
The company so far fixed 52 out 53 environmental violations and was working to apply more eco-friendly coke dry quenching technology instead of current wet quenching. The new method has been proven to reduce air pollution and consume less heat and energy.
"Since July 2016, Formosa Ha Tinh's sewage and emissions before going out to the environment have met Vietnam's standards and are approaching those of more developed countries in the world," deputy minister Nhan said.
"It has been more than three years since the day of the environmental incident. Formosa Ha Tinh has managed to overhaul issues and make sure of both economic development and environmental protection."
A report by the Institute of Environmental Technology and the Institute of Mechanics, however, warned of the risk that the company's treated wastewater is being discharged directly into the sea. According to the report, there was a possibility of severe sea pollution on large scale if an incident occurs and lasts for several days.
The researchers suggested building a procedure which would closely monitor discharged sewage and all facilities that release wastewater to the environment must be well-equipped for quick and efficient response should an incident occur.
The central coastline of Vietnam began witnessing mass fish death on April 2016. An estimated of up to 70 tonnes of fish carcass was reported over the four provinces of Ha Tinh, Quang Binh, Quang Tri and Thua Thien-Hue. A Government investigation later concluded a toxic spill of wastewater by the Formosa Ha Tinh caused the incident. The heavy pollution was said to have affected more than 260,000 people who earn their living via the sea.
The company took responsibility for the mass fish deaths and pledged to compensate US$500 million to support local fishermen and to help renew the polluted marine environment.
VNS