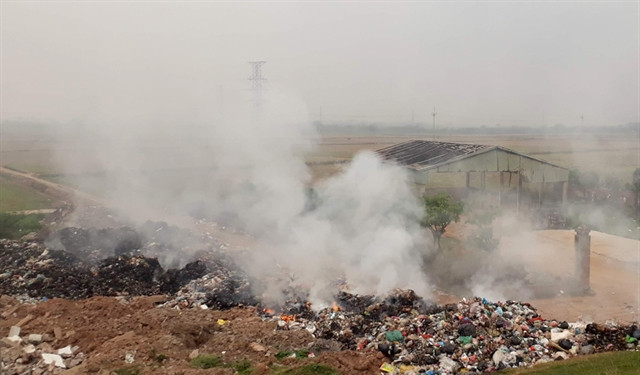 Domestic waste burning is one of leading causes of pollution in the capital city. — Photo hanoimoi.com.vn
A series of solutions are being taken by Hà Nội's authorities to reduce the impacts of pollution on local lives.
The city Department of Natural Resource and Environment has installed 34 air monitoring stations and one mobile station at Nam Sơn waste treatment complex.
Six water surface monitoring stations have also been installed to supervise quality of waste water and air in industrial areas.
According to the department, results at the monitoring stations show that the air quality is different between monitoring areas.
In rural areas and craft villages, the air quality with good and average rates accounts for 98.6 per cent and 99 per cent respectively.
In urban and sub-urban areas, the air quality with good and average rates accounts for 80.9 per cent and 99.5 per cent respectively.
Air quality monitored at road-side stations, or so-called air quality from traffic, is worse than air quality in residential areas.
The city's authorities have urged authorities of Hà Đông District to strengthen measures to control burning of straw, crop by-products and other wastes.
The rate of burning straw in the field in 2021 has decreased to about 23.4 per cent compared to 39 per cent in 2017.
More than 99 per cent of honeycomb charcoal stoves and hundreds of manual brick kilns have been removed.
During the 2020-21 period, the city's traffic inspectors imposed fines on more than 47,400 vehicles with violations in environment and hygiene.
In spite of positive results, the city's authorities said in the face of unpredictable changes of climate, urbanisation, the implementation of legal policies on environmental protection Hà Nội still have shortcomings.
The capital city urgently needs the cooperation of social organisations and development partners to promote joint actions on improving air quality and protecting public health.
At a recent seminar themed "Air quality management for Hà Nội - From commitment to action", experts said the city needs coordination of neighbouring provinces under the leadership of Hà Nộis authorities to absolutely address the pollution. The World Bank is ready to strengthen its commitments to support Hà Nội to solve environmental problems to build a green, clean and beautiful city.
Air quality of northern localities including Hà Nội has recently stood at alarming level.
In early March, according to PAM Air - the first and only independent air environment monitoring network in Việt Nam, covering all 63 provinces and cities, five areas in the north recorded air quality hazardous level including three in Hà Nội.
On April 5, two locations in Việt Nam reported air quality at hazardous level including Cổ Đông Commune, Sơn Tây Town, Hà Nội. — VNS