The use of millions of cubic metres of water from the Red River to supply West Lake and clean the polluted To Lich River has been the cheapest and best way to clean the latter river so far.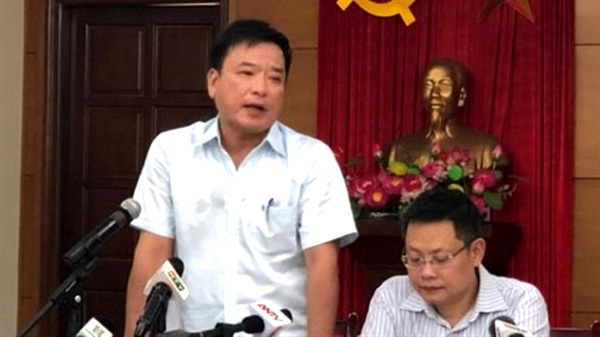 Leaders of the Ha Noi Sewage and Drainage Company One Member Co. Ltd answer questions on measures to clean up the To Lich River. — Photo thanhnien.vn
Director of the Ha Noi Sewage and Drainage Company One Member Co, Ltd Vo Tien Hung made the statement at a press conference yesterday. 
Vo Tien Hung, director of the company, said the use of Redoxy3C technology from Germany to clean some lakes and rivers in Hanoi had been piloted and gained success.
Answering a question on the quality and the price differences between Germany technology's Redoxy3C and Japanese bio-nanotechnology, Hung said the enterprises have just announced the quality of the experimental treatment.
The prices remain unknown.
Hung said the city welcomed all the experiments. The company has received five delegations to evaluate and pilot their technology to clean rivers and lakes. However, the results have not been as expected.
Hung said using water from the Hong (Red) River to supply West Lake and clean To Lich River has gained public attention.
Many people have raised concerns over the wastewater of the cleaning progress of To Lich River. Of that, wastewater should be separated and sent into Yen Xa Wastewater Treatment Plant for treatment instead of being sent directly into the river.
Hung said the scientists approved of the initiative. The city has asked the relevant authorities to examine the plan before giving it the green light.
In reply to a question on the flowing of wastewater into downstream areas, Hung said the city planned to send the wastewater to Yen Xa Wastewater Treatment, which would be constructed in 2023.
The company has worked with local authorities in downstream provinces to close the dam to stop polluted wastewater flowing into the area.
Hung said the budget for the plan was estimated to be about VND150 billion (US$6.45 million).
In May, Hanoi authorities launched the project to clean a section of To Lich River, using Japanese cleaning nano-technology.
The Japanese cleaning equipment was used on the most polluted section of the river located near Hoang Quoc Viet Street in Cau Giay District.
Called the Nano Bioreactor, the equipment was placed on the bed of a 300-metre section of the river.
The device creates and diffuses nano-gas streams into the surrounding water to stimulate microorganisms, which helps to release oxygen and decompose the mud in the riverbed, making the water cleaner.
Nano-bioreactor technology has also been used in West Lake.
VNS

A company director in Hanoi claims he can clean up the severely-polluted To Lich River in just six months.

To Lich, the most polluted river in Hanoi, has received 1 million cubic meters of water from the West Lake, but it is still not fully clean.