A Japanese cleaning nano-technology has helped reduce the bad smell from the polluted To Lich River in Hanoi, according to online newspaper toquoc.vn.vn.
Water improvement project for West Lake and To Lich River proposed
Japan to help treat polluted To Lich River
Hanoi's polluted To Lich River turns green again after dredging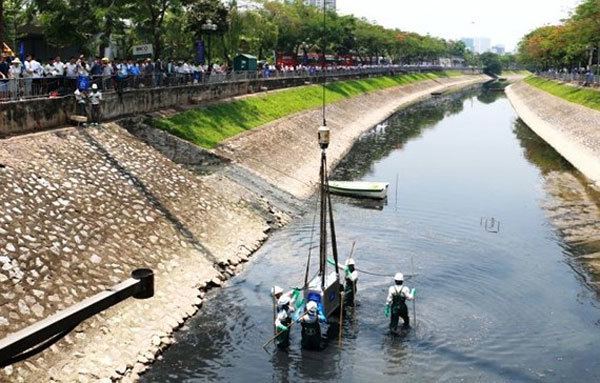 Japanese experts install nanotechnology equipment on the bed of To Lich River. — Photo sggp.org.vn
People living near the section that was experimentally treated by the technology said the odour had diminished greatly despite the extremely hot weather.
Nguyen Tien Lap, a resident in Cau Giay District, said: "For years, the river section in my area was terribly polluted with a bad smell, especially in hot weather. I closely monitored the section after the filter equipment was dropped in the water, and I think it's now less smelly and cleaner."
Last week, Hanoi authorities launched the project to clean the section of the capital's infamously polluted To Lich River.
The Japanese cleaning equipment was used on the most polluted section of the river located near Hoang Quoc Viet Street in Cau Giay District.
Called the Nano Bioreactor, the equipment was placed on the bed of a 300-metre section of the river.
The device creates and diffuses nano-gas streams into the surrounding water to stimulate microorganisms, which helps to release oxygen and decompose the mud in the riverbed, making the water cleaner.
Nano-bioreactor technology has also been used in West Lake, the largest of Hanoi's lakes.
VNS