A Vietnamese Facebook user has apologized to AirVisual for a post that resulted in a "coordinated attack" to discredit the app after its data showed Hanoi has at times topped its list of 90 major cities suffering from air pollution.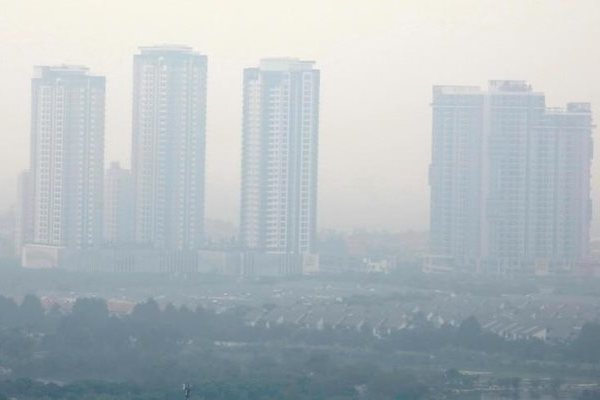 High-rise buildings are seen shrouded in smog as the air quality continues to be listed as "unhealthy" in the Vietnamese capital city of Hanoi on October 2, 2019
Vu Khac Ngoc, an online chemistry teacher with almost 350,000 followers on the platform, published the apologetic post on his Facebook page earlier today.
Air pollution has become a major concern among the Vietnamese in recent days, Ngoc said, adding that statistics provided by the independent online air quality index monitor had provoked controversy and skepticism over its accuracy and objectivity among the public and environmental experts.
"We have not been provided with details on how AirVisual gathers information and arranges monitoring stations, the reliability of its measurement methods, the accuracy of its measuring devices, and how it corrects deviations in measured times," he stated.
He also pointed out that the index monitor's claim that Hanoi had ranked first among the most polluted cities in the world had raised widespread concern on social media.
"Many websites have cited this information, and most people, including me, understood that this ranking made Hanoi the world's most polluted city," he said.
"Since I found this ranking somewhat illogical, as it ignored many major cities where the pollution is much more severe than in Hanoi (as reflected in AirVisual's own observation data), I analyzed these unusual points on my personal profile." 
He admitted that his action may have led to negative user feedback on the firm's Facebook page and Apple Store and Google Play.
Having read a blog post by AirVisual, titled "Concern in Vietnam over Hanoi topping AirVisual's ranking," and various newspaper articles, he noted that there is little understanding of how the app ranks polluted cities, and that Hanoi is in fact not the world's most polluted city.
In the post, the company pointed out that Hanoi ranking first for pollution at certain times in recent days "does not mean that Hanoi is the world's most polluted city. The 'major city ranking' currently covers some 90 major global cities."
"I am very sorry that the negative reviews of AirVisual have influenced or hindered the operation of this app in Vietnam. I hope the misunderstandings surrounding AirVisual's ranking system have been clarified," Ngoc said.
He hoped the company would make the AirVisual app available again in Vietnam, "providing useful, authentic information and positive contributions, offering solutions to improve air quality in our major cities."
Last weekend, Ngoc said in a lengthy post that AirVisual was manipulating its data to sell air purifiers made by its holding company, IQair, which specializes in technology solutions that help protect people from airborne pollutants.
He did not offer any evidence to back up his claims, but the post – which indicated that the AirVisual ranking would harm tourism to Vietnam and urged people to leave negative reviews of the app – quickly received thousands of shares and likes.
Since then, AirVisual has received abusive and threatening messages posted on its Facebook page and on Apple Store and Google Play. Consequently, the AirVisual app and Facebook page are no longer accessible in Vietnam.
AirVisual said it is working with Apple, Google and Facebook to confirm that it has been unfairly attacked and to make the AirVisual app available again in Vietnam.
"Owing to an episode of severe air pollution in recent weeks, Hanoi has at times topped the list for AirVisual's 'major city ranking,' a live pollution ranking of some 90 major global cities," AirVisual stated.
It added that its data have helped raise awareness of air-quality issues in Vietnam, but this has also made it the target of a "coordinated campaign" to discredit the company.
AirVisual was among the most downloaded apps in Vietnam and was, at one point last week, the most-downloaded app on Apple Inc.'s App Store before it was removed.
Air pollution in Hanoi and other major cities in Vietnam has hit its worst-ever levels, with the Ministry of Natural Resources and Environment last week warning people to limit their outdoor activities.
Prime Minister Nguyen Xuan Phuc also called on authorities in Hanoi and HCMC to do more to address air pollution problems. SGT
 
Thanh Thom

Before "disappearing" from App Store and Play Store stores in Vietnam, AirVisual was the most downloaded air quality monitoring app in the country last week.

A separate annual world ranking elaborated by IQAir (owner of AirVisual) in partnership with Greenpeace in March showed that Hanoi was not in the world's top 200 most polluted cities last year.