A dead whale weighing 2.5 tonnes was found on a beach in Van Huong Commune in Van Ninh District in the coastal central province of Khanh Hoa on Thursday, Thanh Niên (Young people) newspaper has reported.
Two-tonne whale found dead on Khanh Hoa beach
Dead whale found on Ha Tinh Beach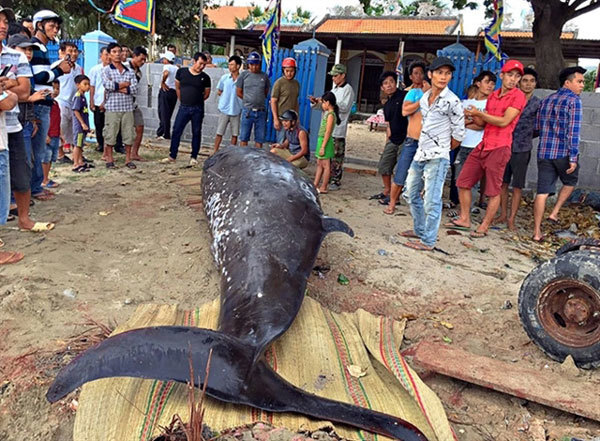 A whale is worshipped before being given a proper burial. — Photo thanhnien.vn
The 5.5m-long whale washed ashore when it was already dead with several bleeding wounds, observers said.
Local fishermen gave the whale a proper burial following their traditional rituals on the same day.
Pham Truc Viet, head of the commune's People's Committee, said that several whales had been found on the Van Ninh District beach in the past.
Earlier in mid-June, fishermen in Van Tho Commune found a dead whale weighing more than two tonnes.
Many fishing communities across the southern coast of Vietnam worship giant whales as the creatures are said to provide help for fishermen at sea, especially during storms, according to folk beliefs.
When a whale dies and its body drifts ashore, local people will organise a decent burial ceremony following the customs of the fishermen.
VNS