The project to clean up To Lich River in Hanoi using the Japanese bio-nanotechnology would be infeasible if wastewater is still directly discharged into the river, said a senior expert in water pollution treatment.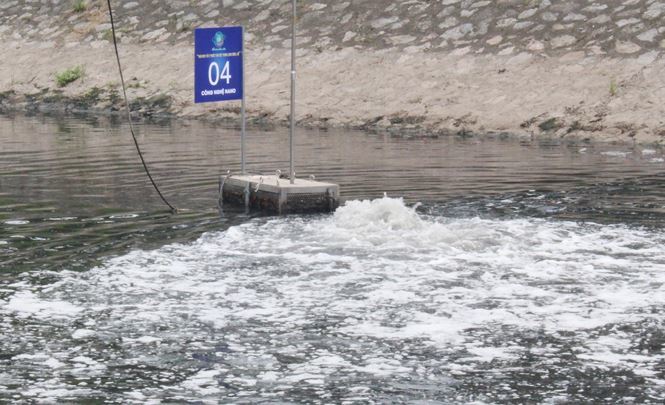 To Lich River's pollution is being treated by the Japanese technology
Dr. Nguyen Quang Khai said that he welcomed the attempt to deal with the pollution in the To Lich River.
Recently, Nhat Viet Environment Improvement Joint Stock Company, which has been assigned to carry out Japanese-funded To Lich cleanup project, conducted a pilot installation of the Japanese bio-nanotechnology equipment in the river.
The equipment includes an aerator that employs nanotechnology to quickly treat water using natural materials.
According to Khai, it is necessary to clarify the composition of the chemical powder used for the cleanup.
The project has been carried out the first 300 metres of the river, so it was essential to announce how much would it cost and how many cubic metres of water would be sterilised during the two-month process?
Khai recalled the image of To Lich River between 1995-1980 when many local residents used to bathe and catch fish.
At that time, the Red River water still flowed into the river and almost no factories were built along the riverbanks.
However, after that, the river bed has been narrowed and polluted as more plants and factories were located beside the river.
Water from Red River has stopped flowing into To Lich River and the direct discharge of untreated wastewater from households and factories are the two main causes of severe pollution.
In Khai's opinion, it would be infeasible for the project as the river's water level remained quite low and full of wastewater.
To revive the river, the city needed a more comprehensive solution.
However, the city should build a system to collect and treat the wastewater before discharging the river.
It would also be necessary to resume the water supply from the Red River into the To Lich River.
The proposal to pump water from Red River into To Lich River is a good method, Khai said. But this should be carefully considered as the Red River is also polluted.
Tien Phong/Dtinews

Nguyen Thi Hoa, a resident living on Hoang Quoc Viet Street, is enjoying a rare reprieve from the rotten smell that has plagued the neighbourhood for decades.

Despite some improvements in To Lich River water quality, many experts are still expressing doubts.  

A Japanese cleaning nano-technology has helped reduce the bad smell from the polluted To Lich River in Hanoi, according to online newspaper toquoc.vn.vn.