Hồ Ra Ơi, a Vân Kiều ethnic minority man in the Central Highlands province of Đắk Krông, has his own unique way of protecting the forest.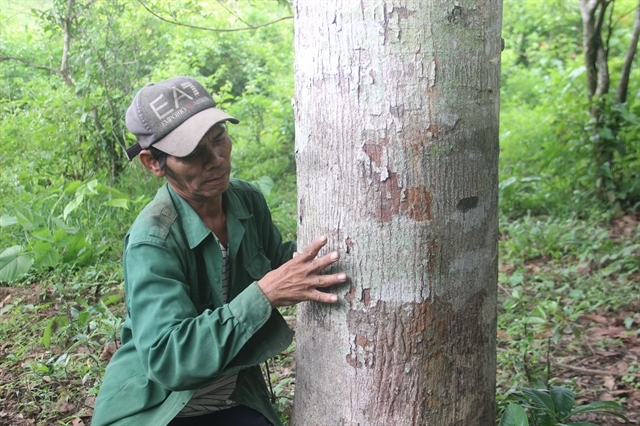 When local people were cutting down trees in the forest to expand their farming land more than 20 years ago, Ơi brought seedlings from the forest to plant in his garden in Hướng Hiệp Commune to preserve the precious trees.
After decades of tending the trees, Ơi has a garden of nearly 1,000 precious huỷnh (palapi) trees. Most are up to 20 metres tall with a diameter of between 25 and 35 centimetres. The garden is estimated to be worth VNĐ450 million (US$19,400).
"When I planted the garden, I just thought I would contribute to protecting the forest. I didn't think it would gain any economic value like this," Ơi told online newspaper dantri.com.vn.
Ơi recalled when he had to struggle to earn a living in the past. Vân Kiều would fell trees to have land for crops and after harvesting the crops, they would encroach further into the forest for agricultural production.
Ơi chose another way. He joined a group scavenging for unexploded bombs to sell as scrap metal. Central Quảng Trị Province remained riddled with bombs and mines after the American War. Ơi, together with other men, walked in the forest, searched and cut up rusted bombs and shells for scrap metal. Each trip lasted for 10 days or more.
In a trip in 1998, Ơi was assigned to walk back home to get rice. He noticed there were many huỷnh seedlings – a prime and rare forest tree species – along the road.
Ơi decided to take some seedlings to plant in his garden.
Since then, Ơi took a basket with him on every trip to the forest to bring seedlings home.
The 26-year-old man tried to go further in the forest to get different kinds of seedlings. He stayed in the forest for a whole week, searching for and digging out trees in daytime and setting up tents to sleep at night.
His garden was soon filled with trees.
However, many died a short time after being planted in his garden.
"I had no experience in plugging small trees from the forest. The trees must be dug out to keep their roots, so they can develop easily," he said.
Ơi cleaned the roots of the trees and moved wild trees to keep the room for them to grow.
After 20 years, the trees now stand tall and proud. Ơi said a local person came to buy his garden and offered VNĐ500,000 ($19) per tree, but he refused.
Ơi said he had two hectares of tràm (cajeput) trees, which brought him VNĐ120 million ($5,160) each year. He wanted to keep the huỷnh garden for his four children, including three daughters and one son.
He said he was happy to know the forest was under stricter control. Those who wanted to plant timber trees could buy seedlings instead of walking to the forest searching for them like him.
The development of the trees has surprised local residents and local authorities.
Ơi's story has been told many times as a way of encouraging people to protect the forest. Some households are trying to plant forests on their land as well.
Hồ Chí Cường, chairman of Hướng Hiệp Commune's People's Committee, said this was a new model in the commune. Ơi was the first resident to grow more than 1,000 precious trees successfully.
Cường said there was no assessment in terms of economic value, but it was an effort to protect the forest. Forest protection would be more effective if the model was expanded. VNS