Hanoi Mayor Nguyen Duc Chung has asked the city's Inspection Agency to conduct a thorough check over the purchase, usage and effectiveness of the Redoxy3C substance which has been used to treat polluted water at 87 lakes in Hanoi.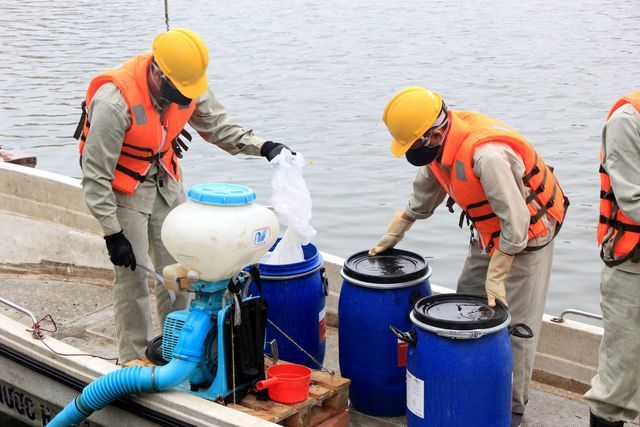 Environment workers use Redoxy3C to treat polluted water on many lakes in Hanoi
According to the Hanoi People's Committee, there have been doubts about the effectiveness of Redoxy3C which is imported from Germany to treat polluted lakes in the city over the past two years.
"Doubts have risen among the public although the Hanoi Sewerage And Drainage Company reported that after two years using Redoxy3C, in 87 of 125 heavily polluted lakes in the city have been saved with water quality meeting the standard set by the Ministry of Natural Resources and Environment," the committee said.
The substance was introduced to use for Hanoi lakes by the city's vice chairman of Nguyen The Hung after consulting Watch Water Germany Company from Germany.
Tonnes of REDOXY-3C had been sprayed on West Lake to treat pollution after the mass fish deaths in 2016. The substance was continued to be used in many polluted lakes in the capital.
Chung requested the inspection team to file a report on the issue within 45 days. Dtinews

Improved water management can help Vietnam tackle the threat of climate change, Belgium Ambassador to Vietnam Paul Jansen said at a workshop held in Hanoi on May 28.  

Nguyen Thi Hoa, a resident living on Hoang Quoc Viet Street, is enjoying a rare reprieve from the rotten smell that has plagued the neighbourhood for decades.

Rescuing rivers: measures will fail if public refuses to cooperate